I think our culture is never more backward than on the issue of love. Most people say they believe in "True Love," but I am most positive that they do not know the meaning of true love.
It is no wonder there are so many broken marriages and divorces in our country. Children learn at a very young age what "True Love" looks like. Take for instance the Disney princess movies:
I know little children, three years of age who have watched the Disney movies. Look at the morals they are being taught even before they go to public school. In the earliest grades they will be more focused on "who likes who" than on learning their lessons. High school is no better. There is constantly a preoccupation on new boyfriend/girlfriend relationships. And if you don't have a boyfriend, your time is spent wondering whether the boys in your grade like you or not - wishing some did, wishing some didn't.
On to college where you marry your current girlfriend/boyfriend. With both people coming from a high school background like the one above, do you really expect the marriage to last very long?
The worlds' definition of "True Love" is a selfish, self-centered and non-sacrificing want of affection. Can anyone who has been in a boy/girl relationship honestly say that they followed the the Word of God in their love?
"Love suffers long, having patience with imperfect people. Love is kind, active in doing good. Love does not envy; since it is non possessive and noncompetitive, it actually wants other people to get ahead. Hence it does not parade itself. Love has a self-effacing quality; it is not ostentatious. Love is not puffed up, treating others arrogantly; it does not behave rudely, but displays good manners and courtesy. Love does not seek its own, insisting on its own rights and demanding precedence; rather, it is unselfish. Love is not provoked; it is not irritable or touchy, rough or hostile, but is graceful under pressure. Love thinks no evil; it does not keep an account of wrongs done to it; instead, it erases resentments. Love does not rejoice in iniquity, finding satisfaction in the shortcomings of others and spreading an evil report; rather, it rejoices in the truth, aggressively advertising the good. Love bears all things, defending and holding other people up. Love believes the best about others, credits them with good intentions, and is not suspicious. Love hopes all things never giving up on people, but affirming their future. Love endures all things, persevering and remaining loyal to the end."
1 Cor 13:1-7 (NKJ)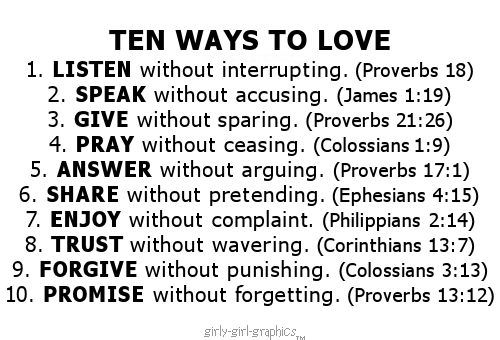 I know at the age of 16 that I have problems just loving my family with a true love, how much more of a problem would I have loving a boyfriend with a pure love?
True love is giving without being afraid to get anything back, and forgiving the other person when things go bad. There will be rough times when it will be hard to speak without accusing, answer without arguing, and forgive without punishing.
"But we know that the testing of our faith produces endurance. Perseverance must finish its work so that you may be mature and complete, not lacking anything.
" James 1:3-4
The Internet dictionary says what endurance is:
The capacity of something to last or to withstand wear and tear.
True love can withstand the wear and tear of this life. It is a reflection of God's heavenly love for us and endures all things.
"For
as high as the heavens are above the earth,
so great is his
steadfast love toward
those who fear him;
as far as the east is from the west,
so far does he
remove our transgressions from us.
"
Psalm 103:11-12