I've been extremely inspired by sketch journals lately. As you can tell from my pinterest board. I thought I would share with you some of my j

ournal

pages.
The first page: This is just a bunch of things
that describe me or that I really like.
I wanted to do it in a very typography way,
but you can only come up with so many font
types.

*wink*
The second page: I was just having fun with one of my
favorite colors. Currently I'm really into anything done in ink. So the little postage stamp was my first try at doing something like that
The first page:
This is my new years journal entry, which is the same as this post
here
.
The second page:
One of my favorite bible verses from Esther, as well as some notes from that Sunday's sermon.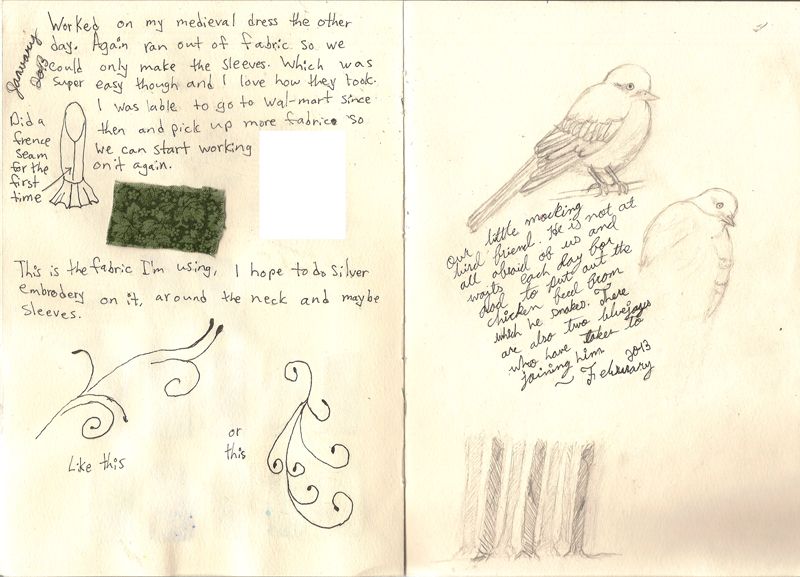 The first page:
An entry about making a medieval dress
which I'm still working on. I did a french seam for the first time

. A sample of my fabric as well as some embroidery ideas.
The second page:
Some sketches I did of a little mockingbird who has been coming around this winter.
The first page:
This was a sketch that I did after watching Jack the Giant Slayer.
It's a beanstalk.
I'm still deciding if

I want to do it over in ink or not

.
The second page:
This is a cute little doodle I did.
It is not at all as big on my journal page as

it looks here.
Do you keep a sketch journal? What are some of your favorite things to draw?